Things To Remember While Marketing Through Social Media Services
It's true that without marketing it becomes very hard for every entrepreneur to sell their products. It does not matter whether your business is small or big, digital marketing services like social media play a major role in every business aspect.
Have you ever thought about why marketing is so important for every service and product-based company? It is because whenever your business comes up with any new innovation, your customers are completely unaware of your latest version.
However, with the help of marketing tactics, you can spread awareness and people will come to know how your upcoming service or product will help them in improving their lives.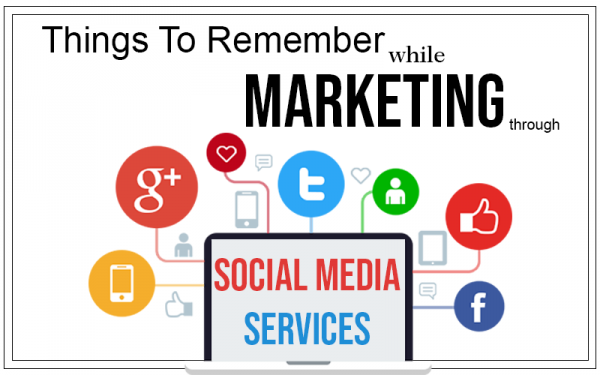 Usually, people connect their problems with the solutions that are available in the market. Because in today's modern world, marketing strategies are completely different. Earlier, entrepreneurs used tactics like newspapers, pamphlets, etc for publication. But, these practices are not as effective as they used to be.
Nowadays marketing practices are implemented in accordance with the Inbound methodology which is far more effective. With the help of digital marketing, you can reach out to the audience that is living far away from your location.
The only thing required is the internet and at present, 70% of the world population spends most of their time surfing on the internet. More than half of those are always active on social media platforms.
Why social media will make you a marketing rockstar?
Well, social media is an integral part of digital marketing services especially in the awareness phase of customer's lifecycle.
Social platforms like Facebook, Instagram, Twitter, etc are widely used all around the world. Which is why marketing through social media platforms has become a trend.
These social platforms are completely free as they allow the audience to stay connected with the world.
Let's go further and check out how to make your business popular on social media?
Choose social media platforms according to your business
It is necessary to choose the right social platform for your business before you get started with social media marketing. Not every social network will allow you to reach your goals. On every platform, you will find different kinds of audiences which are why choosing the right one is so important.
Here we have some of the most popular social media platforms to check out.
Facebook is the most popular and the biggest social platform with a huge user base of more than 2 billion. It is known to be the largest social network all around the world. Facebook has great marketing potential as it is accessed by every person who carries a smart device.
If your business is on a startup stage and if you have a certain budget for marketing then Facebook is the best social platform to choose for marketing. Facebook can be a perfect choice if your business foundation is based on B2C (Business to Consumer).
Instagram is one of the most successful social platforms that follow the visual approach. According to the survey, it is been found that 60% of the audience are engaged through appealing aesthetics. This social platform is completely free to use for marketing. Free marketing involves organic marketing and it's all about getting your customers to reach your content naturally.
Instagram can be your social network marketing platform if your ads are more visual-centric. Usually, people are more attracted to pictures and videos instead of reading long content. So, keeping these advantages in mind Instagram can help to build your brand name organically.
Twitter
Many of you may have gotten confused that "How Twitter can be used as a social marketing platform?". To be very honest, it is the best social marketing platform for posting short and simple ads.
With the character limit of 280, you can directly provide the information that your audience requires. Twitter can easily raise awareness of your latest ones.
On Twitter, you will find the audience who likes to stay updated 24/7. This can be a better place for your ads to reach the right audience organically.
LinkedIn is the world's biggest career platform with a user count of more than 600 Million. With this social platform, you can directly reach your ideal customers through posting Dynamic Ads, Sponsored InMails, and LinkedIn Advertising.
You can even promote your brand name by creating your brand page using a LinkedIn business account. You can achieve high-quality leads as more than 400 Million users remain active through a day. It is a great social platform for B2B marketing.
Scheduled Posting For Consistent Results
It is a universal fact that quality always overcomes quantity. While posting on social media regularly, you will have to be careful that your content's quality should remain consistent.
Most of the time it happens that when the quantity increases, quality decreases automatically. So, make sure your content stays informative for your audience even if you increase your content quantity.
For every audience, content quality is:
Content that connects with the audience problems
Provide a solution
It should be entertaining
Visual Impression
People are more attracted to pictures, videos and various types of visuals. These pictorial elements help them to understand things in a crystal clear manner. You can put your marketing efforts by publishing more and more visuals in your ads.
Rather than reading, your audience can define their requirements through pictures and videos. Also, they will easily understand the usage of your products and services.
Conclusion
Social media marketing has a huge potential in building your brand name bigger in the market. Being popular on social platforms will not only allow you to increase your sales ratio but will automatically build your strong customer base. Though, marketing through social media can be free as well as paid depending on the platform you choose.
For example, you can only perform paid marketing on Facebook but on other social platforms like Instagram, LinkedIn, Twitter, etc are completely free.
However, marketing through social media services does not uplift your business instantly. It requires time and a handful of marketing strategies to make your business popular on social media. But the long term benefits of steady social media engagements are immense.
Still finding yourself confused with social marketing platforms, consider connecting us @QLTech and clear out your doubts.